Austin J40 Pedal Car
Red J40 Pedal Car
Production Date:
17th August 1962
A wonderful example of a previously restored Austin J40 Pedal Car, presenting nicely and ready to pedal for fun or display with pride.
Exterior – Red paintwork over black wheels with chrome hubcaps and brightwork.
Interior – Tan seating with edge piping, beautifully worn with that patina only age can give. Cream gauge surround stands proud over the hand finished black dash.
Electrics – Horn and headlights are powered by batteries housed in a vintage look case under the bonnet.
Historically verified for originality
Eligible to race in the famous Goodwood Revival Settrington Cup
This well presenting J40 is likely to have been restored at some point previously in its life which is evident by signs of use subsequent to that restoration. The paintwork is gleaming red with light crazing in places that doesn't distract but rather adds to the overall feel of nostalgia on offer.
Pedalling is free and easy having been given our care and attention with all necessary parts of the pedal system being restored or replaced with Austin parts where required.
Electrics are functioning perfectly with a lusty sound to the horn and shining headlights.
Definitely one that could be carefully cherished or pedalled hard!
Comes supplied with:
Uniquely numbered leather document folder with Austin pen.
British Motor Heritage Certificate
History

Supplying Dealer: A.N & H. Cooper Ltd, Cleckheaton UK.

Original Colour: Red

Chassis Number: 29236

Paint Colour
Red
Production Date
17th August 1962
The finest classic Austin J40 Pedal Cars
Beautifully made, all metal pedal cars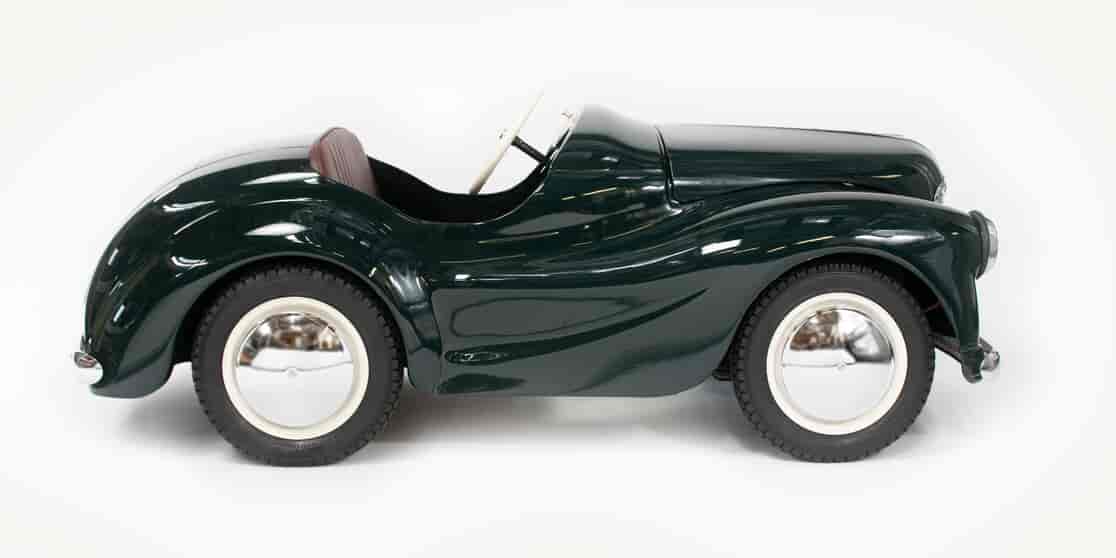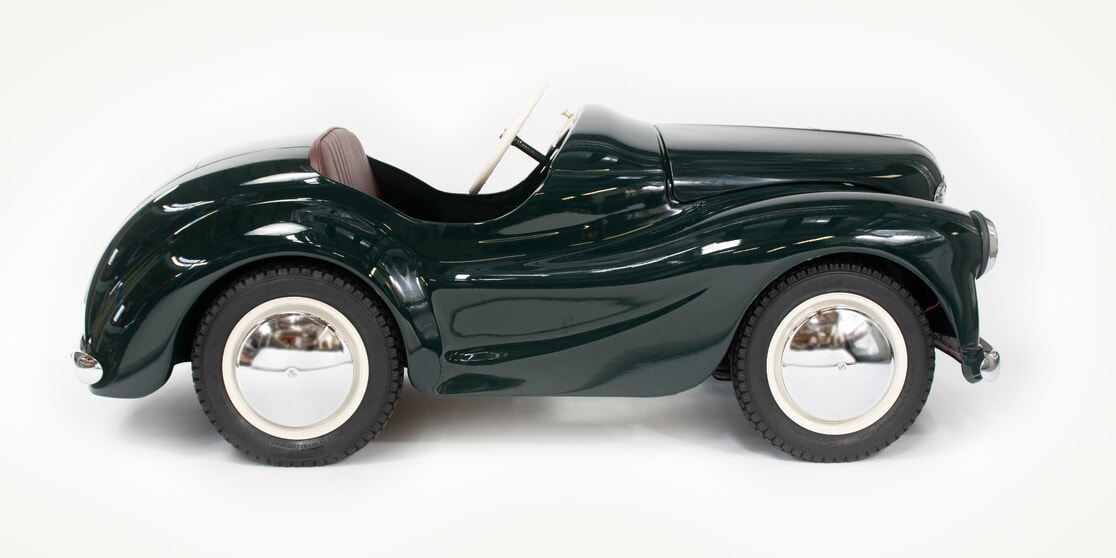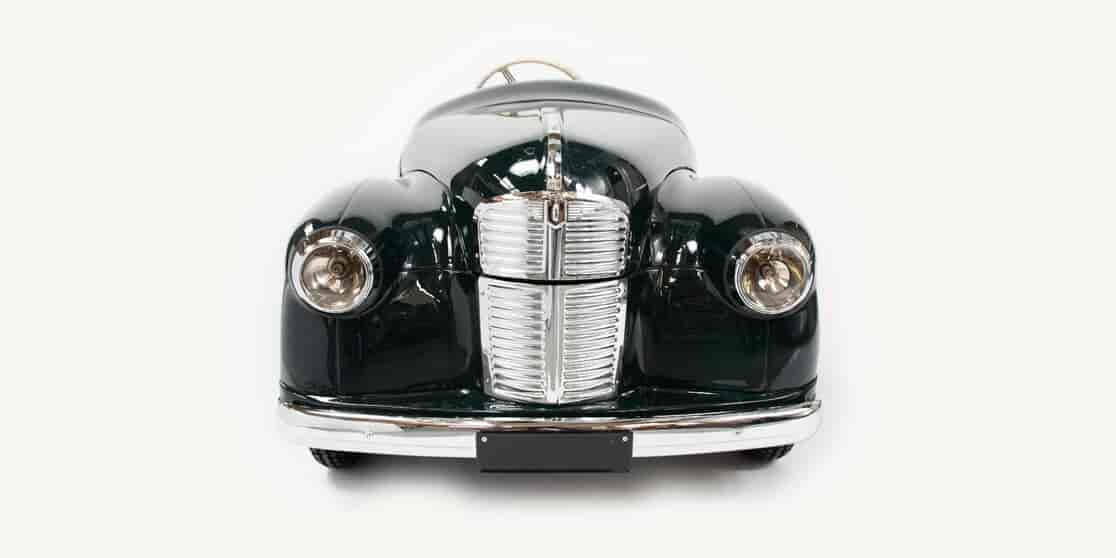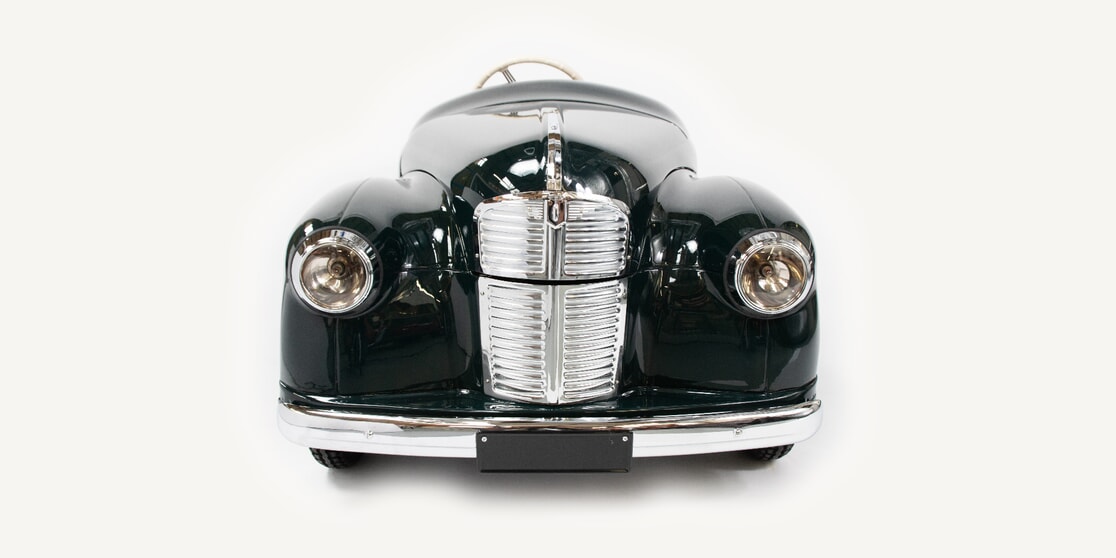 Production Date:
4th December 1961
Production Date:
19th October 1961
the finest classic Austin J40 pedal cars
Beautifully made pedal cars
Austin Pedal Cars is home of the famous, widely-loved Austin J40. Our wonderfully-original classic pedal cars and beautifully engineered, exquisite J40 Continuation continue to inspire the next generation of drivers just as they did in the 1950s.
For those of you who already own an Austin J40, we offer a full range of official Austin spares and accessories designed and manufactured at the Austin Pedal Cars Headquarters in Salisbury, and for anyone who loves the J40 we invite you to view our range of clothing and accessories designed to delight pedal car enthusiasts of all ages.
the brand-new Austin J40 Continuation
The world's finest pedal car
Austin Pedal Cars proudly presents the brand-new Austin J40 Continuation, the first new Austin pedal car for over 50 years. The J40 Continuation has been created using the finest materials, lovingly hand-crafted by automotive artisans, blending traditional style with modern engineering to create a new generation of pedal car.
The first new Austin pedal car in over 50 years
Lovingly hand-crafted by automotive artisans
A blend of traditional classic with latest pedal car technology
driving enjoyment for generations to come
Official Parts, Accessories & Merchandise
We specialise in the manufacture and supply of Austin J40 pedal car parts and accessories and offer the world's largest selection of in-stock parts available for immediate dispatch. All parts are designed and manufactured in house and bear the Austin name. Whilst designed to fit perfectly, using original mountings for a precision fit, every component part has been re-engineered for strength, durability, ease of use and lighter weight.
Whether you need a part to refresh a well-loved car, or need to tackle a barn-find restoration, Austin Pedal Cars offers a range of products to ensure your classic J40 provides driving enjoyment for generations to come.